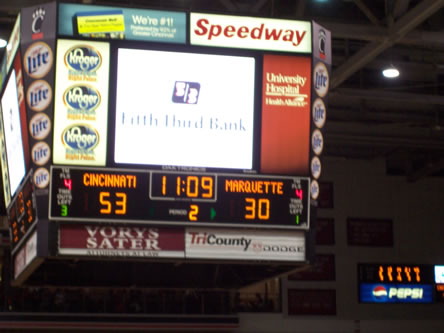 Remember that new feature I promised in last Monday's post? No? Okay good cause it won't be coming for another week or so and when it does, it's not going to be any good. But seriously, I promise it'll be here soon. Maybe.
Anyway, here's a few thoughts from the weekend:
- On Thursday, I attended the Marquette/Cincinnati basketball game. My boy Travis Diener didn't play because he's out for the season after breaking his hand in practice. Watching Marquette w/o Diener (the conference's leading scorer) is like watching Tommy Boy with Farley being replaced by Donkey Lips from Salute Your Shorts. Needless to say, Jihad Muhammad and the Bearcats won in a laugher.
- Driving back to OU from Cincy, I was in front of an SUV with a huge OSU sticker on it, complete with some frat letters that I can't remember. We went back and forth for like an hour or so, then we made eye contact and they tried to be sweet and take off real fast @ like 100 mph. Two minutes later, a highway cruiser does a huge U-ey across the median in front of me and sure enough, nails those douchefaces from Ohio State. I have never been so proud of myself in my life. Except the one day I DIDN'T pee my pants in pre-school.
- Speaking of douchefaces from Ohio State, I hope I'm not the only one who derived extreme gratification from the fact that Maurice Clarett ran his 40s at the NFL combine slower than Stephen Hawking's squeaky wheelchair. Then, in a show of pure class and determination, he decided to give up and skip the rest of the drills (an "effort" that garnered Lucky #13 "Tool of the Week" honors this week). This is the stuff legends are made of. And by legends I mean future welfare recipients.
- On Saturday, my partner and I prematurely bowed (bowelled) out of a 64-team beerpong tournament in the first round. Just call me Bob Huggins from now on. K?
- Sunday culminated with no less than three unbelievable NCAA basketball games (MSU/IU, OSU/KU, UNC/Maryland) that came down to the last second - in which the team I was pulling for won every single one. I'm not sure if that's an accomplishment or not. Yes, it is.
- The only Oscar that I watched had a last name of "The Grouch." BTW, did I mention that I'm six years old? Anyway, I'm pretty sure my favorite movie of 2004 – Eurotrip – got snubbed w/zero nominations so I didn't tune in. On a related note, I'd like to thank the Academy for being elitist bastards and to my parents for getting really drunk that one night 23 years ago. And to Trojan condoms that had yet to institute quality control standards in 1981.