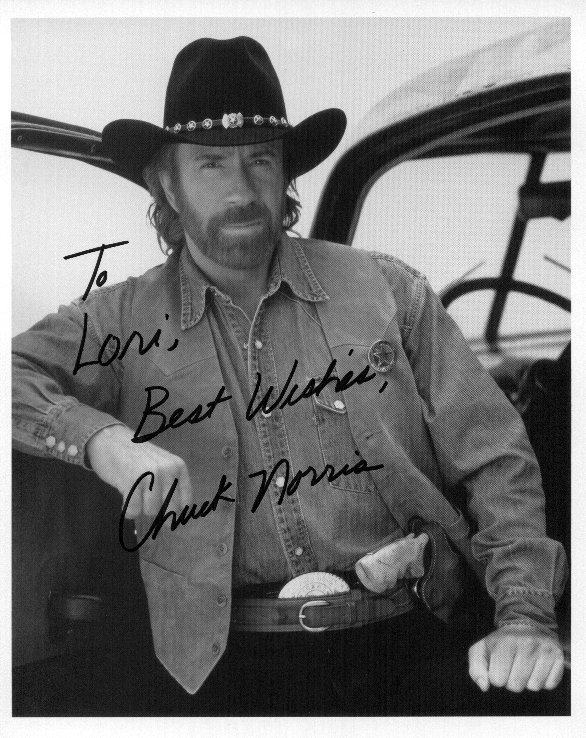 The man, the myth, the legend, Chuck Norris is 65 today. SIXTY-FIVE!!!
His real name is Carlos Ray Norris Jr., which is FAR less intimidating and slightly more humorous. He's like a millionth degree blackbelt in like 36 different martial arts, and has even taught legends such as Steve McQueen, Priscilla Pressley, and the Osmonds. The Osmonds took karate lessons - that's funny.
From imdb.com: "His father Ray was killed in a car accident, shortly after cancer surgery. Part of Ray's throat and chin were removed; a tube was inserted in his trachea to help him breathe. Ray was thrown out of his car in the wreck, and the tube came out. Ray suffocated on the ground because no one at the accident site was aware of the tube." Wow. That sucks to the max. No wonder he walks around beating every ass that he sees.
Ironically, one of Chuck's sons is a professional stock car driver.
Proving that his sperm were just as powerful as his iron fists and scissorkicks, he fathered twins in 2001, at the age of 61. I'll be lucky if my "twins" are even still attached at 61. Good grief.
Performed flawlessly in his cameo in Dodgeball, giving the thumbs-up like no other American martial-arts action hero could.
"Men are like steel. When they lose their temper, they lose their worth."
- Chuck Norris
Chuck Norris Links:
ChuckNorris.com – "Hi this is Chuck Norris, and would like to personally welcome you to my official website."
Conan & Walker, Texas Ranger – Ass-kickingly hilarious clips (found on GorillaMask).
Chuck's KickStart Foundation – "Teaching martial arts in schools to high-risk kids." Sounds like a great idea. Teach future-convicts how to use their arms and legs as lethal weapons. I think he's just trying to train more bad guys to fight now that "Walker" is off the air.
Fuckin' Chuck Norris…