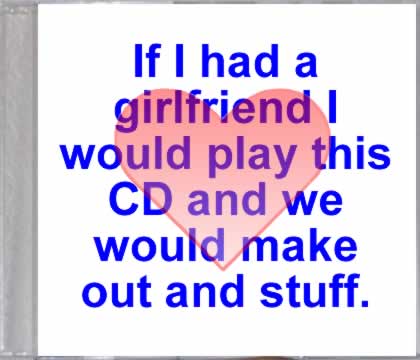 Valentine's Day is fast approaching, so I thought as a public service I would come up with a music mix guaranteed to light a fire in your relationship, whether it be legal in the contiguous 48 states or not. Now, I can't say that I've ever used this tactic* nor do I really ever plan on using it, but I can't foresee any reason why it won't work for you. Good luck.
1) Boys II Men – I'll Make Love to You – not necessarily to set the mood, just to spell out to the lady what you plan on doing by the end of the night. Give her a little head's up. It's only respectful, guys.
2) John Mayer – Your Body is a Wonderland – Like Pavlov's salivating dogs, as soon as women hear John Mayer they instinctively drop their panties. It's like gravity - I can't explain it, but it's really sweet when it works in your favor.
3) Paula Cole – I Don't Wanna Wait – I'm not too familiar with this song because I DIDN'T watch Dawson's Creek with my roommates every day from 10-12 on TBS last year after we got back from class, but it seemed to work for Dawson & Joey and you can't argue with success.
4) Bonnie Tyler – Total Eclipse of the Heart – better yet, get the Old School version with the guy swearing. "I fuckin' need you now tonight!" It's good to work a little comedy in there, because girls like a sense of humor but for some reason aren't as fond of farts as guys are, especially in those "intimate" moments.
5) Eric Carmen – Hungry Eyes – girls like Dirty Dancing, so pretend you're Patrick Swayze and she's that annoying chick who's not as near as hot as she should be. Man that movie sucks.
6) Dashboard Confessional – Screaming Infidelities – girls also like Dashboard Confessional, but this song also works if the lady hasn't been too diligent in "trimming the hedges," so to speak. "Your hair… is everywhere…" Gross.
7) Tim McGraw – Somethin' Like That – gotta work a little country in there. This song works especially well if you met your girl at the county fair while wearing a white t-shirt w/ a barbecue stain on it. This may only apply to people from Darke County, Ohio.
8) AC/DC – You Shook Me All Night Long – the energy's rising, things are heating up, and it's got a great beat that you can sync your pelvic thrusts to. Whatever you do, do NOT under any circumstances let an image of Angus Young pop into your head, or it's all over.
9) Meatloaf – I Would do Anything for Love – 12 minutes of fury, this is like 3 songs in one. Guys, if you can last through this one without spilling your seed, then you get a prize or something. You also get a prize if you can recite any of the lyrics that aren't included in the title.
10) Andrew W.K. – I Get Wet – absolutely the BEST song to release energy to, if you catch my drift. If you're not humping by now, you can get your release by delivering haymaker fist-pumps and jump-kicks to your prude of a partner.
There you have it. A mix guaranteed to help you get your groove on or whatever. If you want a copy of this on a compact disc, send me an email and I'll send one out to you. The only stipulation is that I get to watch when you try it out.
*Disclaimer: I have never had sex in my life, nor do I even know how that works. I am writing this strictly from what I've read in Cosmo and from what my uncle tries to tell me when he gets really drunk. I'll spare you the details.